Story
atelier oï was founded in 1991 in La Neuveville, Switzerland, by Aurel Aebi, Armand Louis and Patrick Reymond. The name oï, derived from the Russian word "troïka", a team of three, conveys the dynamism and holistic energy generated by a trio.
atelier oï  is the result of an alliance rooted in humanity and art alike. It is about sharing values and ideals. The trio has been linked for 30 years through the intangible bond of the desire to grow and venture together on a journey that never denies their individual paths. The alliance brings together open and creative minds, sharing their visions.
The founders' deep involvement with architecture, design and naval construction, as well as the encounter with charismatic personalities such as Alberto Sartoris and Ettore Sottsass, have shaped atelier oï 's philosophy. It strives to go beyond the confines of a single discipline.
At atelier oï, the idea of multidisciplinarity is epitomised by the word "atelier", a place of creation, intellectual knowledge and manual know-how. On an international scale its work ranges from architecture and interior design to product design and scenography.
Creative Philosophy
atelier oï's creations, always elegant and coherently conceived, express the desire for a harmonic and natural unity. They epitomize a " po-ethic " vision of creativity, to bring the individual closer to the elements, to nature, to the material and to emotions.

A rich spectrum of inspiration and different elements support the creative process: music, colours, light, scents and movement. Moreover, there is the possibility of drastically changing a perspective, of making unexpected use of a given shape, of venturing towards the thousands of facets of materials ...

The final purpose being to create a sense of pleasure and " levitas " by carefully addressing individual needs. Purist, minimalistic and always skilfully realised according to the most rigorous standards, atelier oï 's creations seduce by arousing emotions, memory, senses and conscience.
Transdisciplinarity
Contrasting with a monoculture system, atelier oï's know-how defined itself from the very beginning, by a desire for plurality and interdisciplinarity. The projects are a celebration of diversity, a true fusion of disciplines which are often unconsciously considered as separate entities.

This way of thinking and working intensifies the creative process. It expands imagination's boundaries, opens new perspectives and enables new horizons.

Transdisciplinarity in the creative process of design and architecture is applied to every project of scenography, museography and exhibition design without any barriers.
"The apparition of emotions and of a contemplative mind frame are part of our creative process and approach"
Material
The starting point of the creative process is often the material: its nature, its potential affinities, its reaction to external stimuli and its interaction with other materials.

Therefore, experimenting is an essential aspect of atelier oï 's approach: the objects often stem from an intuitive and emotional interaction with the material. The material is explored or adapted with an untiring curiosity in the pursuit of knowledge and discovery.
"In this close bond with the material, experimentation recalls the know-how of yesteryear, the artisan's skills crafting the material and transforming it with passion and deep respect"
Team
"The transdisciplinary approach which is at the heart of atelier oï means that many professions and skills are mastered and assembled. Strength is unity and it is thanks to the exchange between the different visions and sensibilities of the team members that the creative process is given its full meaning"
Moïtel
Geographically speaking, atelier oï is located at the crossroads of cultures and diverse influences.

Its headquarters, situated in the former motel of La Neuveville in Switzerland, halfway between the North and the South of Europe and straddling a language border, is a veritable tool supporting both artistic approach and projects.

The three-storey building, renamed  Moïtel , accommodates all of atelier oï 's activities covering more than 900m². It houses the ateliers, a materials library, a prototype workshop, office spaces, a photography studio and a gallery dedicated to exhibitions and experimentations.

Therefore, it is not merely atelier oï's working space, but also a laboratory for experimentation, a venue for cultural exchange and events dedicated to their work. The Moïtel embodies, nourishes and unceasingly inspires atelier oï, while reflecting its creative and multidisciplinary soul.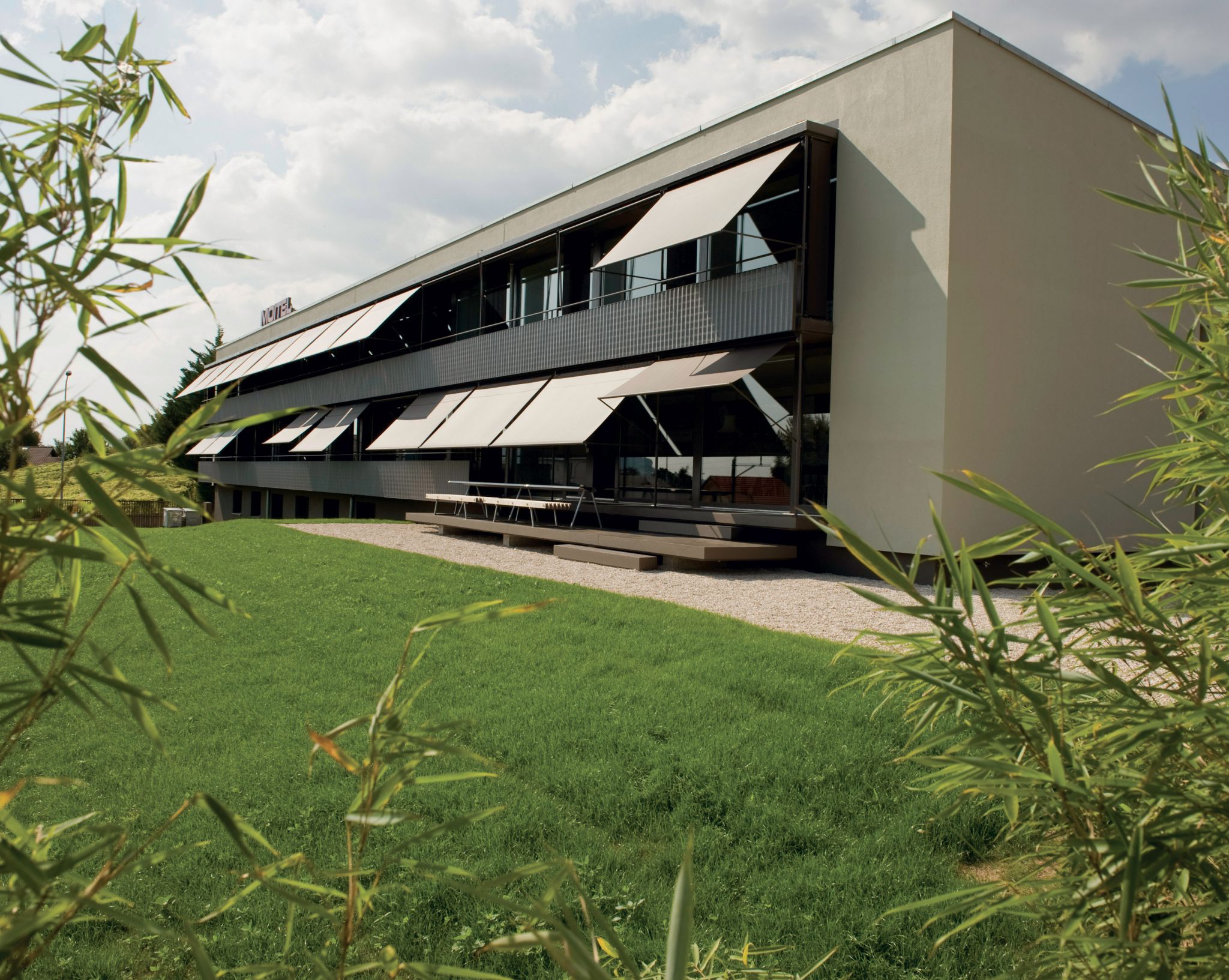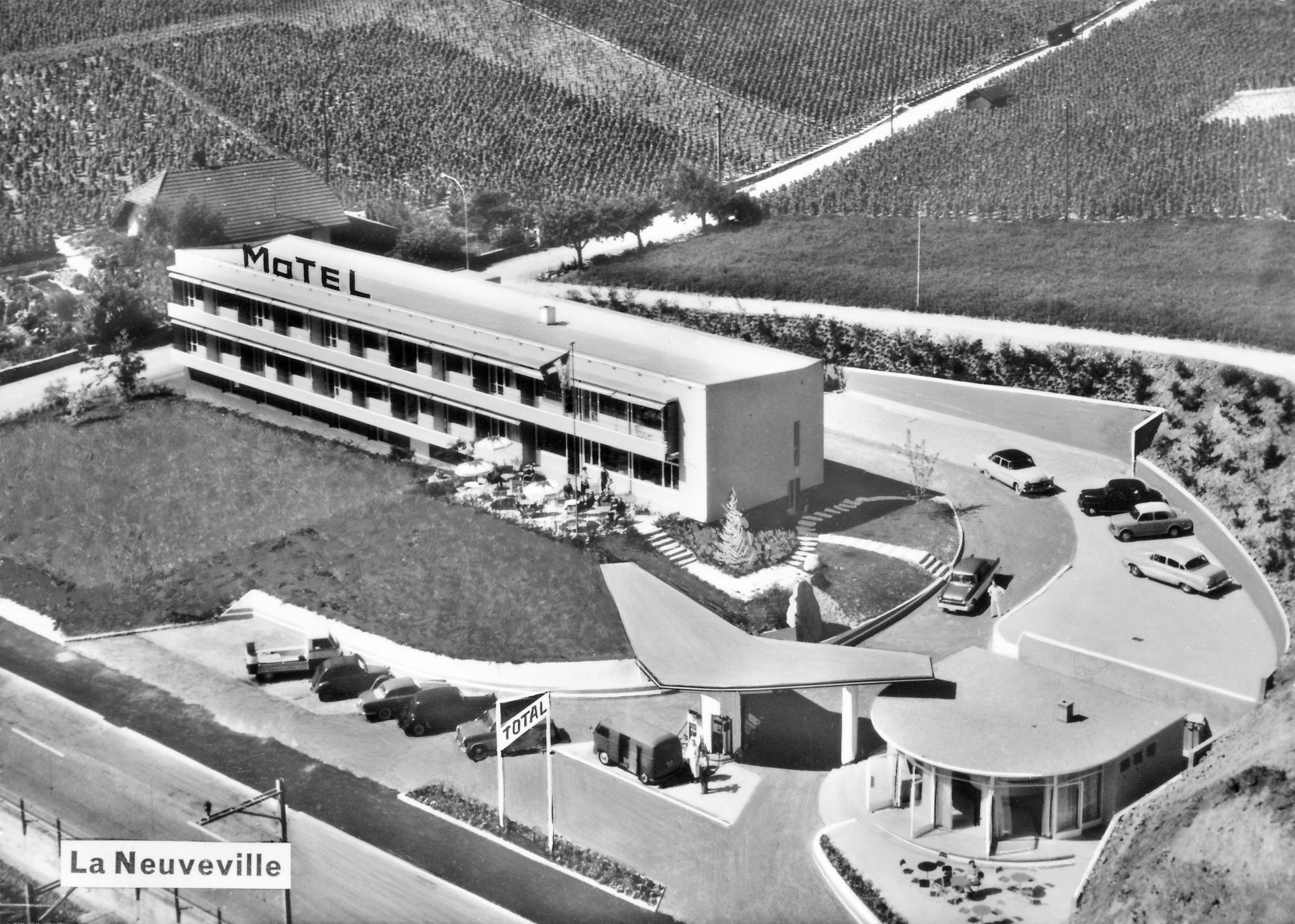 Awards and Mentions
atelier oï's team won numerous national and international awards. 
Prix Européen du Musée du Conseil de l'Europe (FR) for the Archaeological Museum Laténium in Neuchâtel (CH)


2003
IF Design Award — Product Design International Forum Design (DE) for the Tour d'Oï  shelve edited by Röthlisberger (CH) 


2004
Design Plus (DE) in the context of the Light and Building Fair in Frankfurt (DE) for the Uniq lamp edited by Ribag (CH) 


2007
Living at Home Award 2007  by the Design magazine (DE) for the Allegro collection edited by Foscarini (IT)   


2007
Die Besten 2007 — Lapin d'or in the Design category by the Hochparterre magazine (CH) for the Allegro collection edited by Foscarini (IT)


2008 
Product of the Year by Architectural Record (US) for the Allegro collection edited by Foscarini (IT)


2009
Audience Award Maison de l'année by the IdealesHEIM magazine (CH) for the Glaeser house in Saint-Aubin (CH)


2009 
IF Product Design Award — Gold Award 2009 (DE) for the Allumettes collection edited by Röthlisberger (CH)


2011 
Piranesi Prix de Rome (IT) finalist for the Archaeological Museum Laténium in Neuchâtel (CH)


2012 
Prix bernois du design 2012 (CH) by the Fondation bernoise de design as accomplished designers in the fields of Design, Architecture, Interior Design and Scenography


2013 
Long Time Design special prize by the D Casa Interior Design magazine for La Repubblica newspaper (IT). In the context of the Milano Design Award 2013 for the objects created for B&B Italia, Moroso, Louis Vuitton, Röthlisberger Kollektion and Venini


2014
Innovationspreis Architektur und Technik category 1 Produkt von hoher architektonischer Qualität in the context of the Light + Building  fair (DE) for the Conversio light


2014 
Iconic Awards 2014 — Winner for the Pringle of Scotland Flagship Store in Chengdu (CN)


2014
D'S Awards 2014 — Bronze Winner in the context of the Designers' Saturday 2014 (CH) for the la vie en rose scenography for USM Modular Furniture (CH)


2015 
Kenneth Hudson Award in the context of The European Museum of the Year Award 2015 (EMYA) for the International Red Cross and Red Crescent Museum in Geneva (CH)


2015 
Red Dot Award  (DE)— Product Design 2015 for the Conversio light by Illuminartis (CH)


2015 
Design Preis Schweiz 2015/16 in the furniture category for the USM Privacy Panels by USM Modular Furniture (CH)

2016
D'S Awards 2016 — Gold Winner in the context of the Designers' Saturday 2016 (CH) for the Talsee scenography


2017
ICONIC AWARDS 2017 (DE) — Interior Winner in the category New interior Design Concept for RIMOWA (CH)


2018
BOOMSPDESIGN (BR) — Designers of the Year 2018 in the context of the monographic exhibition "Handmade Industry" at  Museu da Casa Brasileira in São Paulo (BR)


2018
Talents du Luxe et de la Création (FR) — in the category Talent de l'invention


2019
REDDOT AWARD WINNER (DE) for Business Lounge Collection Velum for Girsberger (CH)


2019
STYLEPARK AWARD Salone del Mobile 2019 (IT) for the Lounge Chair Aria for Desalto (IT)


2019
Merit Award of the DFA Design for Asia Awards 2019 (CN), with The General Kyoto (JP)


2019
ADI DESIGN INDEX 2019 (IT), with Genea for Passoni (IT)


2020
iF DESIGN AWARD 2020 (DE), in the category interior architecture, in the discipline Hotel Design, with The General Kyoto (JP)


2020
Archiproducts Design Awards - Winner of the 2020 ADA (IT), with E LA NAVE VA for Alias (IT)


2020
Premio Nazionale per l'Innovazione - Premio dei Premi, in the category Industria e Servizi, Design Italiano, with Genea for Passoni (IT)